---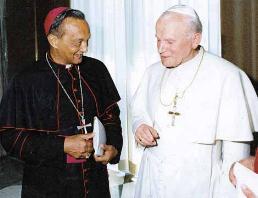 Anthony Pantin 1930-2000 & Pope Jonh Paul II
His Grace Archbishop Anthony Pantin of Port-of-Spain, passed away unexpectedly and peacefully in the early hours of this morning, Sunday 12th March, 2000.

THE Roman Catholic Church has accepted the Government's offer for an official funeral for Archbishop Anthony Pantin.

Pantin's funeral rites will be spread over a three-day period, beginning on Thursday with an official service and ending with his burial on Saturday at the Cathedral crypt.

The Catholic Church has also accepted the proposal of acting Prime Minister Lindsay Gillette that there be a national day of prayer.

Pantin, 70, died in his sleep on Sunday of acute heart failure. He was the third bishop to die at the Archbishop's House at 27 Maraval Road, Queen's Park West.

The last burial of a Roman Catholic bishop in T&T took place over 59 years ago. Bishop John Pius Dowling also died in his sleep in a chair at the house on June 6, 1940. Bishop Patrick Vincent Flood, who built the house, was the first bishop to die there on May 17, 1907. Bishop Finbar Ryan, who followed Dowling, was buried in Ireland.

Auxiliary Bishop John Mendes has taken over responsibility of the diocese, in keeping with Code 419 of the Code of Canon Law.

Yesterday Mendes, Fr Christian Pereira, Fr Clyde Harvey, Fr Joseph Harris, Fr Garfield Rochard and Abbot Francis Alleyne of Mt St Benedict were at Archbishop's House overseeing funeral arrangements. Some of these senior clergymen represent the College of Consultors which acts in emergency cases in administration of the church.

Pereira said, "The Archbishop has contributed tremendously to the country. It is up to us to make sure that his passing is not a loss, but that we are able to build and to integrate his contribution into the fabric of our national life. We will lose something if we throw it away."

The Archbishop's body will arrive at the Cathedral of Immaculate Conception, Independence Square, on Thursday at 6 p.m. for a Pontifical Mass presided over by the Papal Pro-Nuncio Archbishop Eugenio Sbarbaro DD. Archbishop Edgerton Clarke, president of the Antilles Episcopal conference, will deliver the homily.

Government officials, the diplomatic corps and representatives of religious groups are expected to attend this service.

The body will lie in state at the Cathedral on Friday from 8 a.m. to 5 p.m. for public viewing and services will also be held for schoolchildren.

At 10 a.m. on Saturday the church will say farewell to Pantin after the Archdiocese of Port of Spain celebrates a Solemn Eucharist with Mendes as chief celebrant. This will be followed by Pantin's entombment in the Cathedral crypt below the sacristy to the south-western end of the altar.

A condolence book will be opened at Archbishop's House today to Thursday from 10 a.m. to 3 p.m.
| BACK | PANTRINBAGO |